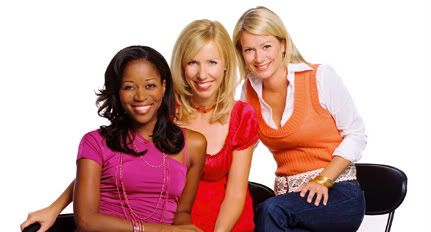 After two complete seasons of Canada's Three Takes TV series on the Slice Network , Slice has yet to announce whether the series will be brought back for a third season this winter. Three Takes on Slice is a daytime talk series, about women and for women that includes the perspectives of its three female hosts who come from varying backgrounds; one is married, one is divorced and one is single.
The three women on Three Takes dish on everything from fashion and beauty, to relationships and sex, and tips about general living. Slice's Three Takes, which in its past seasons has aired twice daily during the week (12pm and 6pm EST), has also featured Canadian experts who provide their insight on the topics discussed daily.
The hosts of Slice's Three Takes are all 30 something's, who find ways to relate despite their different relationship statuses. Andrea Bain, the show's single girl, wants to find true love despite her rocky history in relationships, although believes that she will remain childless by choice. Christine Diakos is a busy working mom who regularly refers to the chaos that occurs in her household with the network of her large Greek family. Jack Hourigan, the funny girl of the group, is divorced and has a history of appearing on and writing for Second City. During Three Take's second season, Jack found love again when moving a long-term boyfriend into the home she shares with her pre-teen son, Spencer. If Slice picks up the Toronto based show for the third season, perhaps viewers will find that Jack's divorce becomes a part of ancient history as wedding bells can be seen in the future.
Are you a fan of Three Takes? Stay tuned for more news on its future with Canada's Slice Network.