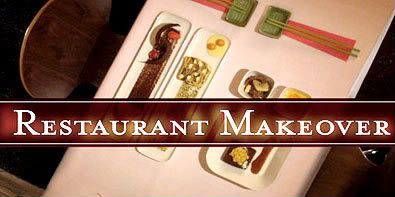 Restaurant Makeover , one of Canada's top remodeling and renovation shows that airs on The Food Network, is hitting the west end of the Greater Toronto Area on today's episode by bringing their restaurant expertise to Brooklyn's Bar and Grill in Burlington, Ontario. Canadian designer Robin DeGroot and chef David Adjey help restaurant owner Filipo Corradi restore Brooklyn's Bar and Grill so it no longer lives in the shadows of Corradi's successful business; a local Burlington bowling alley. Like many other of the restaurants featured on Canada's Restaurant Makeover, Brooklyn's Bar and Grill is a dingy, dive eatery that's doing nothing to attract its all-ages target clientele.
If you're not familiar with Restaurant Makeover, the show's format involves a complete facelift of the local restaurant by starting from scratch. The appointed designer and chef come up with a new concept to help make the failing eatery a successful venture. The Restaurant Makeover team implements new décor in the restaurant and works with the restaurant's head chef to reevaluate their menu.
Tune in at 11am or 8pm EST on Monday, February 16, 2009 to see what Restaurant Makeover does to turn Burlington restaurant, Brooklyn's Bar and Grill around. Interested in dining at the Burlington restaurant after seeing their expose on Restaurant Makeover; check them out, but keep an open mind and suppress your disappointment, because fans of Restaurant Makeover have made it clear through reviews that Brooklyn's Bar and Grill has dumped David Adjey's creative menu for more low-key fare.
Stay tuned to find out how Restaurant Makeover's team of foodie experts can help make your restaurant a success.