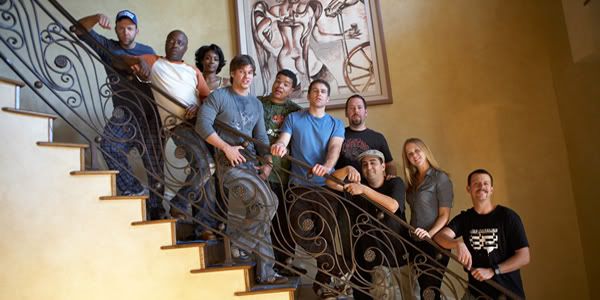 Let the games begin! Reality TV buffs, brace yourself for the ultimate reality-competition show satire, Reality Bites Back, an all-new series premiering Thursday, July 24 at 10 p.m. ET/PT, exclusively on The Comedy Network.
From the creators of The Biggest Loser and Beauty & The Geek, Reality Bites Back is a 30-minute series that satirizes and pokes fun at the staples of the reality genre including American Idol, Survivor, The Amazing Race, and The Biggest Loser. Host Michael Ian Black serves as ringmaster for this competition as a circus of stand-ups battle each other in weekly parody contests, in hopes of avoiding elimination. The "last comic standing" is crowned "Lord of All Reality" and walks away with $50,000.
Reality show plots and gimmicks are pushed to extremes as American Gladiators becomes "Almost-American Gladiators," in which the contestants must fight off steroid-pumped border patrol agents as they replicate the immigrant experience through physical challenges. In "Hunting with the Stars," celebrity exploitation is taken to new heights, and in "So You Think You Can Dive, players plunge into failure when they are given 24 hours to become Olympic divers. Comedians vying for cash and glory are Kyle Cease, Chris Fairbanks, Jeff Garcia, Red Grant, Tiffany Haddish, Bert Kreischer, Mo Mandel, Donnell Rawlings, Amy Schumer, and Theo Von.
Host Michael Ian Black has played a steady mix of off-beat characters on film and television including MTV's The State, COMEDY CENTRAL's Stella and Viva Variety, and the film Wet Hot American Summer — all of which he co-created. Black also has appeared in VH1's I Love the 80s and NBC's Ed as well as in numerous commercials.