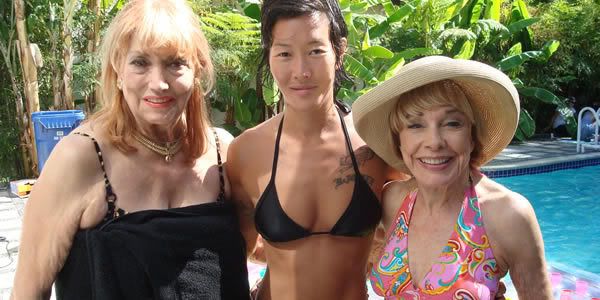 The Golden Girls Meets Borat in Hilarious New TV Series Old Skool, Premiering July 13 on Star!
Going where no granny has gone before, meet two BFFs who are putting retirement on the shelf and setting out to discover a world they never knew existed. One of the craziest series of the summer, Old Skool premieres Sunday, July 13 at 7 p.m. ET exclusively on Star!. Hollywood legends Terry Moore (77) and Gita Hall (72) explore society's wonderful subcultures in this hilarious cross between The Golden Girls and Borat.
Widow of billionaire Howard Hughes, Terry Moore is an extroverted Academy Award®-nominated ex-starlet who counted Elvis Presley and Marilyn Monroe as friends; dated James Dean; and posed for Playboy in her late 50s. Gita Hall was the world's first supermodel, mingled with royalty, and was once married to actor Barry Sullivan. Friends for more than 50 years, both have an unquenchable thirst for life. Committed to uncovering society's wonderful subcultures, these septuagenarians hit the streets to discover what's hip amongst today's youth.
Each week, Old Skool cameras follow the eccentric duo as they share their various experiences that include partying like a rock star, directing their own porn shoot, getting arrested, checking into rehab, learning how to rap, attending Gay Pride, and more. Special celebrity guests include Perez Hilton, Kim Kardashian, Steve-O, Jesse Jane, Todd Bridges, Jermaine Jackson, Jenny Shimizu, and Reichen Lehmkuhl. Age ain't nothing but a number when it comes to these women. Their 'fish-out-of-water' immersion into these worlds is often revealing, sometimes shocking, and always hilarious.