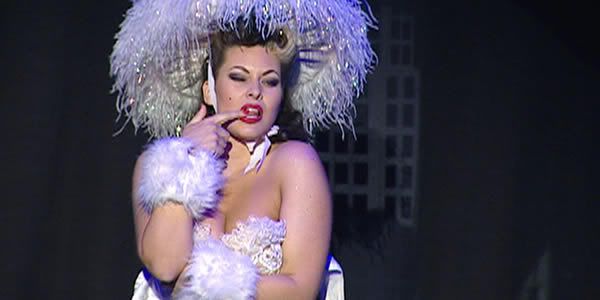 Those craving catwalk competitions can get their fix as SexTV unveils a unique pageant like no other. Bump & Grind: The Making of a Burlesque Diva premieres Saturday, June 21 at 9 p.m. ET on SexTV – The Channel.
Featuring commentary from Margaret Cho, Dita Von Teese, and burlesque legend Dixie Evans, Bump & Grind is a one-hour documentary that examines the golden age and revival of the art form known as burlesque. The SexTV original production follows five serious female burlesque performers from their hometowns, to the neon-lit Vegas strip, for the jaw-dropping Miss Exotic World Pageant.
Considered the Academy Awards® of burlesque, the annual competition combines dazzling costumes and outrageous performances – attracting more than 300 hopefuls vying for burlesque stardom. Focusing on the high art of burlesque and people who are far from ordinary, Bump & Grind takes viewers behind-the-scenes to introduce some of today's hottest boundary-pushing performers including Harvest Moon, Selene Luna, Kalani Kokonuts, Diamondback Annie, and Immodesty Blaize.
"Once considered a lost art, burlesque has exploded into the mainstream over the past few years," said Cynthia Loyst, Supervising Producer for SexTV. "From professionals like Dita Von Teese, to suburban housewives, people are reaching for their feather boas and rediscovering the art of bump and grind."
Bump & Grind is a visual feast that demystifies the stigma and instead presents the passion, mystique, and glamour behind this seductive dance.
For more SexTV – The Channel programming information, visit www.sextelevision.net.
Real stories about life, love and sex. A unique mix of informative, educational and cutting-edge features about the human sexuality experience. From variations to vices, SexTV -The Channel is the first word on your favourite subject. SexTV -The Channel is owned by CTV Limited, a division of CTVglobemedia, Canada's premier multi-media company.