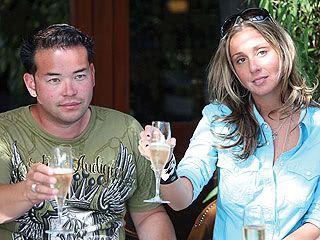 Jon Gosselin's got another new girlfriend on his arm, and this time they've been traipsing around St. Tropez, France on luxury yachts and mingling with celebrity fashion designers. Jon Gosselin is said to be meeting with Christian Augidier in the hopes of developing a children's fashion line with the designer.
Jon's latest squeeze is 22 year old Hailey Glassman, who is said to have a love of partying, which seems to be the 31 year old father of 8's type these days since splitting with wife Kate Gosselin. The couple met through Hailey Glassman's father, the plastic surgeon who was responsible for completing Kate Gosselin's tummy tack after the birth of her sextuplets. Talk about drama!
As Jon Gosselin continues his rotation of rebound girls, fans of Jon & Kate Plus 8 are wondering if any of these will make it to the show, and how seeing their dad with a whole cavalry of young women not long after separating from their mother is affecting the Gosselin children.