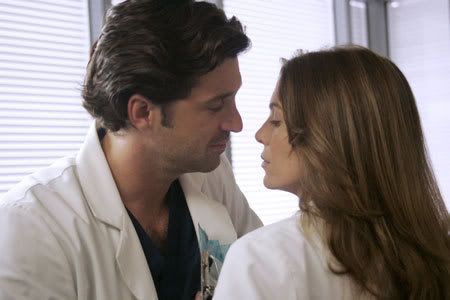 Last night's episode of Grey's Anatomy was certainly dramatic, but left more questions unanswered as major plot lines of the series still weren't drawn to a close. Fans of one of CTV's top primetime shows will have to wait until next week to see if Derek finally proposes to Meredith, if Seattle Grace will face yet another hefty lawsuit, or if Callie will find herself in the center of yet another lesbian plotline.
As predicted in yesterday's spoiler articleabout last night's episode, and revealed in CTV's Press Release on episode titled An Honest Mistake; last night's episode of Grey's Anatomy was filled with tension, bloodshed, and very little romance. Derek and Addison engaged in an OR showdown regarding the protocol for treating their pregnant patient. This plotline brought up issues of both morality and mortality as the surgeons were faced with removing portions of the patient's brain that would allow her to live, while preserving very few human qualities. Finally, with the appearance of the Chief of Surgery in the tense OR, Derek was forced to surrender his scalpel and allow Addison to deliver the baby, resulting in the death of the mother. Seattle Grace may soon face yet another lawsuit, as the grieving husband of his wife leads him to accuse Derek of her murder, due to her death that resulted from a series of "routine" surgeries.
As we predicted, Derek and Mark Sloan engaged in an all out fist-fight in the hallways of Seattle Grace during last night's episode of the hit show, Grey's Anatomy. Preceding the testosterone induced fight, Sloan finally revealed his relationship with Little Grey (Lexi Grey, half-sister of Derek's girlfriend Meredith) to his friend a fellow surgeon. In a case of bad timing, Derek, still recovering from the blow of losing a patient took out his aggression on Sloan. In the end, both men both retreated home, black and blue with broken egos.
Last night's episode of Grey's Anatomy also revealed that in fact, Izzie's blood tests had been mixed up by an intern, indicating that her previous diagnosis of anemia was incorrect and actual results might be indicative of cancer. However, viewers will have to find out exactly what this means for the character's future on the show when the plotline continues during next week's episodes.
Stay tuned as the drama unfolds within the walls of Seattle Grace on Grey's Anatomy; viewers can definitely expect more OR tension, lesbian drama, critically ill surgeons and of course, the moment we've all been waiting for; Derek's proposal to Meredith Grey.