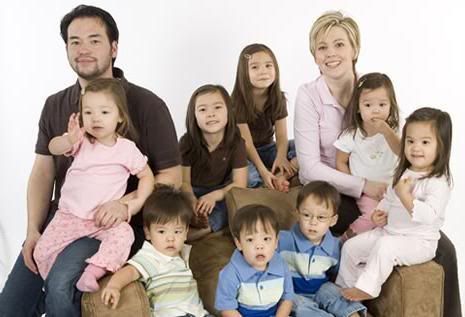 In the wake of the end of TLC's Jon & Kate Plus 8, Kate's sister-in-law Julie has revealed some tidbits about what's gone on behind the scenes of the show and how most of what we've seen over the past few seasons were staged. Okay, this might not be news to many, but it seems that despite the end of the series and their finalized divorce, they're still in the headlines. It won't last long..don't worry.
Here are some of Julie's comments about Jon & Kate Plus 8 published previously on her blog:
"When the show first started, Kate made a wishlist of things that she wanted, and that became the theme of each episode — the carpet, twin's room, bunk beds, cow, hairplugs, teeth whitening, trips, etc. EVERYTHING that you see them do or buy is completely paid for out of the budget for the show or traded for free advertising. Kate went on and on about saving up for special days, you saw her paying for things, she talked about budgeting, etc. It is all for the appearance that they are a struggling family with 8 children. They needed to be relatable. They didn't pay for any of it."
"The Christmas episode from 2007— producers told Kate that the viewers wanted to see her show appreciation to their helpers. They told her what the episode was going to be. I think they baked cookies and then went caroling (of course this was probably one of their many 'traditions"—those are all fake too). Kate threw a fit. She didn't want to do it, but she did . . . because they were trying to pacify the viewers.
"Another example is the 'Games Gosselins Play' . . . After the episode, I called Jodi (Kreider, who is married to Kate's brother Kevin) and said, 'what was that?.' She hadn't watched it, so I explained that it came across so fake (at least to me). Jodi was with Kate when she got "the call" about the theme (of a family games night) for that episode. Kate said something like, 'so now I have to pretend that I play with my kids.' They also wanted her to pay special attention to the boys."
"Don't believe everything you see. The children are also being prompted to say or do certain things. They signed their lives away to TLC and they will continue to spin the show to keep the viewer's interest."