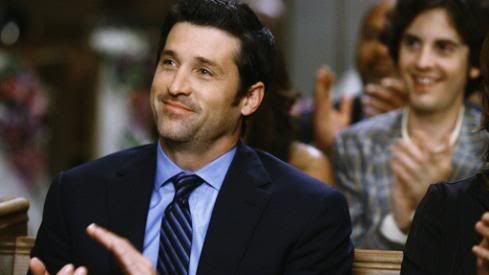 Patrick Dempsey has always been a big advocate for the relationship his character, Derek Shepperd has with Meredith Grey and recently, he spoke out about how he felt about their Post-It Note wedding and how he would feel about a baby for the couple.
Dempsey recently told Extra that he was shock when he read the script, that the highly anticipated wedding for Mer-Der would be a simple Post-It exchange. "I think the fans are expecting a wedding," the actor said. "I was surprised too, like this is it?"
"This is what it's gonna be?"
However, the actor remains mum as to whether we can expect to see a real wedding in the works for season 6 and beyond, but he isn't shy about saying he would have liked to see Ellen Pompeo's pregnancy be written into the show for a McBaby, adding "I think it would've been interesting to see her juggling a career and baby."
Well, we know where the plot might head if Patrick Dempsey were responsible for writing the script, but since that's not about to happen, we'll have to remain in the dark.