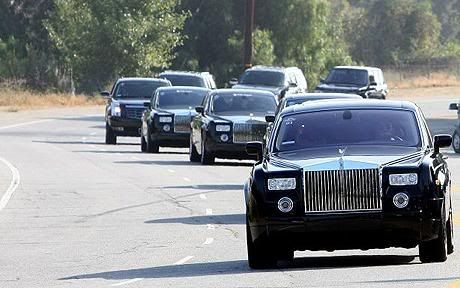 For those tuning into Michael Jackson's memorial, airing live today on many television stations in Canada in the United States; here's a run down of what you can expect in terms of a timeline while the world celebrates the life and death of one of music's biggest legends.
9.34 LA (17.34 GMT): Fans can leave live reports with tributes to their idol here
09.33 LA (17.33 GMT): Jackson's gold coffin will serve as the centrepiece on the stage of the Staples Centre memorial, according to Sky News.
09.29 LA (17.29 GMT): So far, Jackson's mother Katherine, with Jackson's three children, Prince Michael I, Paris and Prince Michael II (also known as Blanket) have been seen leaving the Forest Lawn Cemetery. Jackson's sister LaToya was also spotted from the aerial coverage. The hearse and family motorcade are now driving about 7 miles to the Staples Center.
09.25 LA (17.25 GMT): The crowd has been building in the streets along the cortege route since people learnt that Michael Jackson's body would be moved to Staples Centre for the memorial service.
09.21 LA (17.21 GMT): The Daily Show's irreverent "Celebrity in Death" coverage from can be seen here
09.18 LA (17.18 GMT):The first pictures of Jackson's coffin can be seen here
09.14 LA (17.14 GMT): Michael Jackson's family has left Forest Lawn and is now heading to the public memorial.
09.13 LA (17.13 GMT): Jackson's family are seen hugging outside the cemetery. "It's surreal" says Anderson Cooper of CNN.
09.08 LA (17.08 GMT): Fans entering the Staples Centre are paying tribute to Jackson by dressing as characters from his greatest hits. RT@writerchica reports on Twitter that two 'Billie Jean'-style fans had been spotted, along with one dressed as MJ in 'Beat it'.
09.04 LA (17.04 GMT): In a sign of the King of Pop's influence around the world, many European broadcasters are clearing their schedules tonight to broadcast the memorial, according to a report in Variety .
09.04 Los Angeles (17.04 GMT): With a huge police presence, crowd control and circling helicopters above the Staples Centre, fans are very slowly and somberly entering the arena.
09.02 Los Angeles (17.02 GMT): Michael Jackson's casket will be driven from Forest Lawn to the Staples Centre. "It wouldn't be fair for the fans who are going to appear and be here at the Staples Centre not to see his casket," Teddy Riley, a singer who worked closely with Jackson on several albums, told CNN .
09.00 Los Angeles (17.00 GMT): Jackson's gold casket is wheeled out of the Forest Lawn funeral home and loaded into a hearse. It appears that the casket will be brought to the memorial serivce.
08.58 Los Angeles (16.58 GMT): LA police have asked fans without tickets to the memorial service to stay home from the event.
08.55 Los Angeles (16.55 GMT): Because the Jackson family was late to arrive at the funeral home, there are suggestions that the memorial service will be delayed.
08.54 Los Angeles (16.54 GMT): Last week after news of Jackson's death stunned his fans, three of his albums became the best-selling albums in the US. "Number Ones" sold 108,000, "The Essential Michael Jackson" sold 102,000 and "Thriller" — which was reissued last year in multiple commemorative versions — sold 101,000, according to preliminary sales data from Nielsen SoundScan.
415,000 Michael Jackson albums were sold in the US last week. The week before he died, he sold only 10,000, making last week's sales 40 per cent more than Jackson's entire catalog had sold for the year up to June 21, Billboard numbers showed.
2.6 million songs by Michael Jackson as a solo artist or performing with the Jackson 5 were downloaded online, up until last Sunday.
08.51 Los Angeles (16.51 GMT):One of CNN's reporters, who is inside the Staples Centre, site of the public memorial, has his hands on a show programme. The booklet is gold, and filled with pictures of Jackson posing with various celebrities and political figures.
08.49 Los Angeles (16.49 GMT):The family's private ceremony is taking place at Forest Lawn, a cemetery in Los Angeles with views of the Hollywood Hills. Many Hollywood stars are buried here, including Bette Davis and David Carradine, the recently deceased actor.
"It's one of the greenest cemeteries in Los Angeles," Lisa Burks, an author and cemetery historian, told the New York Daily News . "It's immaculately kept by a massive groundskeeping crew who are very good, and it's notorious for guarding the privacy of their clients."
08.44 Los Angeles (16.44 GMT): Jackson fans across America who were unable to obtain tickets to the Staples Centre memorial can watch the service in Cinedigm cinemas across the US, according to the New York Times .
08.39 Los Angeles (16.39 GMT): The Staples Center has just opened its doors to the fans and mourners.
08.39 Los Angeles (16.39 GMT): Watch here for live news feeds of the scenes outside the Staples Centre, and the Forest Lawn cemetery.
08.37 Los Angeles (16.37 GMT):The service at Forest Lawn is now underway. Reports say that Jackson's coffin will be placed on the stage at the Staples Center throughout the memorial concert.
08.36 Los Angeles (16.36 GMT): LaToya Jackson was seen entering the cemetery before the doors were closed for the private ceremony.
08.35 Los Angeles (16.34 GMT): Michael Jackson's mother, Katherine, and other family members have entered the Hall of Liberty at the Forest Lawn cemetery in Los Angeles. There is seating here for at least 1000 people.
Via: Telegraph