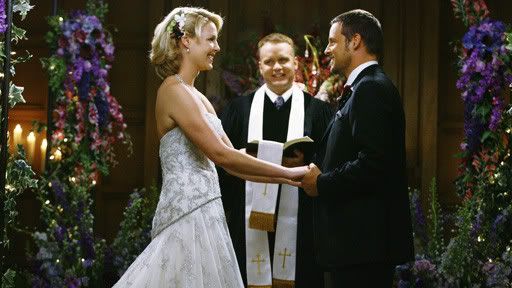 While I had already guessed that Izzie and Alex would tie the knot on last night's 100th episode Grey's Anatomy, I was ready to sit down last night and see who was really going to walk down the aisle. However, due to an unfortunate preview aired by CTV advertising the upcoming episode, finding out the outcome of the wedding ceremony was no longer something to be left in suspense about.
Prior to airing last night's 100th episode, CTV showed Grey's Anatomy viewers a preview on what they could expect to see on both last night's episode and the upcoming season finale. Unfortunately, their timing couldn't have been worse, since they revealed the results of one of the biggest questions Grey's Anatomy fans have been speculating about all season – who would get married on the 100th episode. In the preview clip, which ruined the outcome, CTV showed Alex demanding that Izzie get the surgery that could save her life by saying "As your husband, I'm telling you that you have to get the surgery." Oops, right?
Surprisingly, neither fans of Grey's Anatomy, the media, CTV, or the numerous blog articles I've read on last night's 100th episode have mentioned this blunder, so obviously the drama and romance of the long-awaited episode overshadowed any plot ruining errors. While I must admit that last night's episode certainly lived up to expectations, I can't avoid saying, shame on you CTV for giving away the outcome!