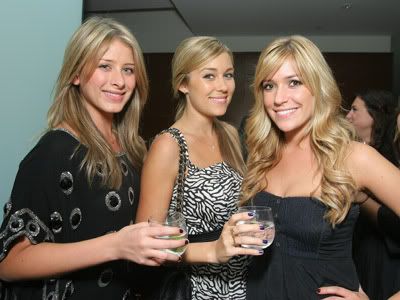 Fans of MTV's series the Hills know that star Lauren Conrad has said that this season will be her last. After appearing on reality television since her high school days when she co-starred on another MTV series Laguna Beach, the reality TV star feels now is the time to shift her focus to her fashion career and take herself out of the constant spotlight. While MTV has yet to officially confirm whether the Hills will continue filming after Conrad's departure from the series, there has been a great deal of speculation regarding who will replace her.
Further fueling these rumors this weekend at Heidi Montag and Spencer Pratt's church wedding was guest Kristin Cavallari. Formerly one of the highly spotlighted cast members of Laguna Beach, who filmed the series alongside Lauren Conrad, the former star has fallen off the radar. There have been rumors brewing for a while that Cavallari would make a guest appearance on the Hills, but after catching the wedding bouquet this weekend at the Speidi wedding (of course in front of the hills cameras) perhaps this is an indication of things to come.
While Cavallari does have connections to Lauren Conrad, and another Hills cast member, Lo Bosworth, outside of reality TV, the aspiring starlet should have no association with the other cast members of the hit MTV series. So, if we can't expect to see more of her on the Hills, why was she at the wedding?
Will Kristen Cavallari replace Lauren Conrad on the Hills? And if not, who will it be?