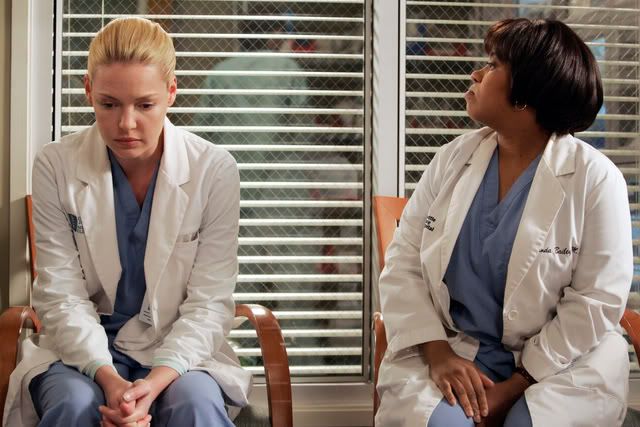 If you missed last night's episode of Grey's Anatomy on CTV in Canada, you didn't miss much. After a nearly month long hiatus, the show finally returned to had very little drama to follow that of the episodes prior to the break.
After starting her chemotherapy, Izzie started planning Meredith's wedding, transforming her hospital room into a bridal suite full of dresses for Mer to try on. Although Meredith and Derek had agreed to a small intimate wedding, both caved to Izzie's wishes of something big and glamorous, unable to say "no" to their sick friend. After being a busybody wedding planner for the first half of the episode, the side effects of the chemo finally caught up to Izzie, and she found herself bedridden for the remainder of the show.
Meanwhile, Owen found himself in therapy; Sloan and Sheppard revived their friendship; George outdid Alex during a high pressure medical emergency; and Meredith asked Lexi to be a bridesmaid in her wedding, warning her that she might not thank her when she sees what Izzie picked out for the bridesmaid dresses.
Hopefully, as the season finale of Grey's Anatomy approaches, we can expect the level of drama to increase; while it's nice to see plotlines come to a close, last night's episode was too much of the touchy-feely and not enough excitement!
Tune into CTV in Canada next Thursday at 9pm for an all new episode of Grey's Anatomy.
\