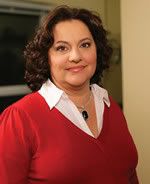 Popular host of the Slice Network's "'Till Debt Do Us Part" will be hosting a new show on the Canadian TV station, called "Princess", where she will attempt to tame demanding divas; spreading her wings and her focus beyond finances to careers and relationships as well. If you have a demanding diva in your life, it's time to nominate her to appear on Princess. While Slice has yet to announce when the show will begin airing, they are casting for the new show!
Do you have a princess in your life? You know, a friend or family member who thinks the world revolves around her? A girl who can't leave the house unless she's in $300 jeans and matching manicure? Someone whose bad behaviour means that personal and professional relationships are suffering in the process? Want to give her a dose of reality?
Slice Network's new program Princess is on the hunt for those demanding divas. Our host, Gail Vaz-Oxlade, is about to blast her tough-love tactics onto a whole new generation of women. Watch as Gail sets these girls straight when it comes to career, money, and relationships and thrusts them into the life they've always dreaded: their own!
Contact us by email at casting@franticfilms.com
So nominate the pampered prima donna in your life and see if she can earn some respect in the real world. Your princess's envious lifestyle is about to get the dose of reality it's always needed.