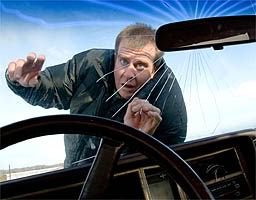 Attention bad drivers, Canada's Worst Driver, which airs on the Discovery Channel, is getting set to find the worst driver in Canada all over again in 2009. Safe drivers, be prepared to get off the road as Season 5 of the show gets ready to accept submissions.
The Discovery Channel series Canada's Worst Driver is looking for drivers for the upcoming fifth season. Submissions from the Barrie area will be reviewed immediately and producers will visit the city in early April to meet with the worst of the worst. The show aims to resolve serious and dangerous behaviors by putting driver through a series of challenges based on core driving skills. Drivers graduate each week until one is crowned Canada's Worst Driver.

Canada's Worst Driver is officially accepting nominations for season 5 of the hit show!
To give the bad driver in your life an opportunity to learn from the country's best at a state-of-the-art driver's rehabilitation centre, email driver@propertelevision.com or call 1-866-598-2591.
Each and every nomination is considered.
For those who aren't familiar with the Discovery Channel's Canada's Worst Driver, it's a show based upon Britain's Worst Driver. The Canadian show is filmed at The Driver Rehabilitation Center, an abandoned airforce based near Picton, Ontario. The nominees for Canada's Worst Driver have their car keys or driver's licenses confiscated while they undergo weekly driving challenges with the person who nominated them along for the ride in the passenger seat. Every week, the best driver of the week graduates the safe driving program, while the other contestants on the reality show fight to renounce the title of Canada's Worst Driver.