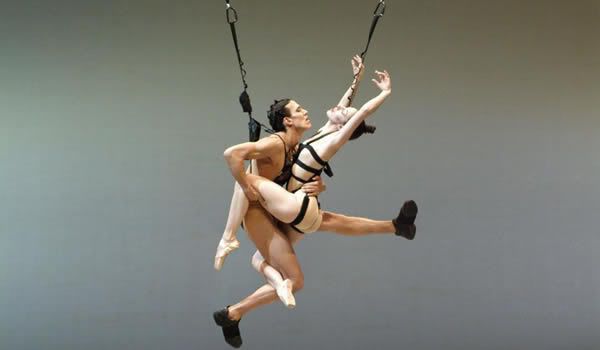 Crutches, ropes, prostheses, harnesses, and pointe shoes: acclaimed Canadian choreographer Marie Chouinard uses these devices to liberate or limit the dancers' movement in the erotic bODY_rEMIX/gOLDBERG_vARIATIONS, premiering Monday, September 15 at 9 p.m. ET / 6 p.m. PT on Bravo!
An interpretation of Johann Sebastian Bach's Goldberg Variations and Glenn Gould's commentary underscore the 10 dancers' sensual, animalistic, and raw movement in this 60-minute performance piece.
Chouinard, a fixture in the dance world and recipient of the Order of Canada, finds beauty in discomfort. The implements used in the award-winning bODY_rEMIX/gOLDBERG_ vARIATIONS generate unusual body shapes, creating a dance aesthetic that is painful, playful, and beautiful.
The dancers are strapped into bondage-style costumes while uttering guttural grunts and moans. The provocative performance shocks with its take on the human condition.