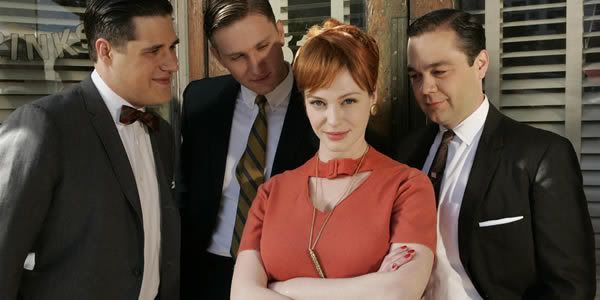 On the heels of an astounding 16 Primetime Emmy Award nominations – and continued critical acclaim – Mad Men's much-anticipated second season comes to "A" on Sundays at 10 p.m. ET/PT beginning July 27 (visit achannel.ca to confirm local broadcast times), and on ASN at 11 p.m. AT. Originally scheduled to premiere on "A" this Fall, the whirlwind of attention fuelled by both critics and fans fast-tracked the Season 2 launch for viewers in Canada. It was also announced today that each episode of Season 2 will be available on demand on The CTV Video Player at CTV.ca following its television broadcast debut.
Now, Canadians will be able to keep up with the twists, turns, and antics at the Sterling Cooper Agency at the same time as viewers to the south as Season 2 of Mad Men airs day and date with its U.S. broadcast. Created by Emmy Award-winning writer and producer Matthew Weiner (The Sopranos) and starring Golden Globe-winner Jon Hamm, Season 1 enjoyed continuous accolades and became the most talked about show on television, thus paving the way for a highly buzzed-about second season.
Season 1 of Mad Men continues to air Wednesdays at 9 p.m. ET on Bravo!, continuing with Episode 8 this week. As well, the entire Mad Men Season 1 catalogue is now available on the CTV Video Player at CTV.ca with each of the 13, full-length episodes available on demand.
"With such unprecedented acclaim, we want to make sure Canadian fans of Mad Men get to see the all-new season as soon as possible," said Susanne Boyce, President, Creative, Content and Channels, CTV Inc. "For those viewers just awakening to the Mad Men phenomenon, episodes of Season 1 continue to be available on Bravo! and CTV.ca, allowing new fans to catch up to the drama."
The Season 2 premiere, "For Those Who Think Young" (airing Sunday, July 27 at 10 p.m. ET/PT), opens on Valentine's Day in 1962, a little more than 14 months after the Season 1 finale left Sterling Cooper's Creative Director Don Draper (Jon Hamm) facing failure at home. Meanwhile, newly-promoted copywriter Peggy Olson (Elisabeth Moss) suffers from depression after secretly giving birth following her tryst with adman Pete Campbell (Vincent Kartheiser).
Despite the passage of time, the characters will have to face the consequences of their earlier actions. Old secrets remain to be explored – and new ones will emerge.