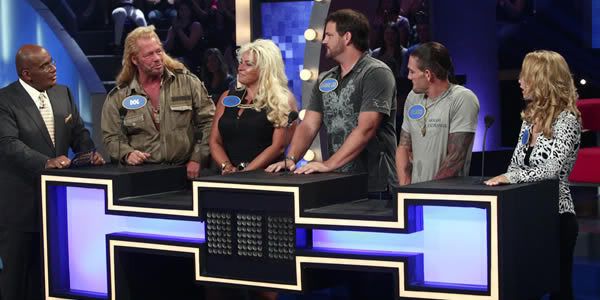 Family Feud goes Hollywood with an all-new celebrity edition of the classic game show, premiering Tuesday, June 24 at 8 p.m. ET/PT on "A". Hosted by Al Roker, Celebrity Family Feud is a star-studded version of the beloved game show, only this time 24 famous families will face off and throw down for the charity of their choice.
Former TV Queen Kathy-Lee Gifford goes head-to-head with Dog the Bounty Hunter, the casts of My Name is Earl and The Office fight for first place and Deion Sanders tries to keep up with the Kardashians.
Each week, four celebrity families – either real-life or television families – match wits to raise money for their respective charities. Two teams compete against each other, with the winner from preliminary rounds going to the finals, where they can win up to $50,000 for their charity.
In the premiere episode, rapper/actor Ice T and his family challenge Joan and Melissa Rivers and family, then singer/actress Raven-Symone and family squares off against Wayne Newton and family.
Families battling for top ranks on the board include:
* Ice T vs. Joan and Melissa Rivers
* Raven-Symone vs. Wayne Newton
* Kathie Lee Gifford vs. Dog the Bounty Hunter
* The Kardashians vs. Deion and Pilar Sanders
* Bill Engvall vs. Larry the Cable Guy
* Vivica A. Fox vs. Mo'Nique
* Christopher Knight and Adrianne Curry vs. the Teutul family from American Chopper
* Tiki Barber vs. Ed McMahon
* Vincent Pastore vs. cast members from The Girls Next Door
* Corbin Bernsen vs. Margaret Cho
* "The Hickeys" from My Name Is Earl vs. "The Camden County All-Stars" from My Name Is Earl
* Cast members from The Office vs. the American Gladiators.