Who Will Be This Year's Cycling Tour de Force? Find Out When Tour de France Airs Exclusively on OLN, July 5 – 27
Each year, hundreds of cyclists descend on France for the one of the world's most prestigious cycling competitions – the Tour de France. With each turn of the pedal, these athletes are pushed to their physical and psychological limits as they surge closer to the finish. But who will emerge ahead of the pack and win the coveted yellow jersey?
Find out when the 2008 Tour de France returns to OLN this July. For the eighth consecutive year, OLN is the exclusive Canadian broadcaster of the event, bringing viewers LIVE coverage of the competition each day from Saturday, July 5 to Sunday, July 27 (specific broadcast times are included below).
Live coverage of each race stage – as it happens – will be hosted by Phil Liggett and Paul Sherwen in addition to competition analysis from Craig Hummer and Bob Roll.
Throughout the Tour, special guests including Robbie Ventura and Frankie Andreu will provide colour commentary on the race, shedding light on the exciting trials and triumphs of the cyclists involved in the prestigious competition. For the duration of the Tour, OLN will bring viewers full coverage of the race each morning (check local listings).
Then, OLN offers enhanced coverage during prime time that will include interviews, travel features, historical features and training tips.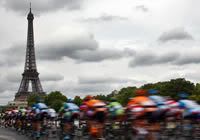 Now in its 95th year, the 2008 Tour de France consists of 21 stages covering a total distance of 3,500 kilometres. With 10 flat stages, five mountain stages, four medium mountain stages and two individual time-trial stages, this year's race will include four mountain finishes, 82 kilometres of individual time-trials and two rest days.
The Tour route will run from Brest in the north western region of Bretagne through central France to the southern coast and then north again for the last stage ending on the Champs-Élysées in Paris. Additionally, this year's competition will include 10 new town stops, two of which are in Italy – Prato Nevoso and Cuneo. Don't miss all the pedal-pushing action as this year's cyclists ride to the finish in competition with each other and themselves.