CONTESTANT BIO: GENEVIEVE WU, Pharmaceutical Sales Rep
Genevieve is a high energy 28-year-old born in Nova Scotia who now works and lives in Toronto. Genevieve is a first generation Canadian. Her mother is from Taiwan and her father is from Hong Kong. She has what she describes as a "serious phobia" of squirrels.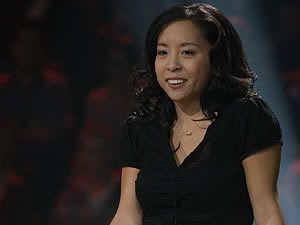 While she is only 4'11", she claims to be able to piggy back people twice her weight. Genevieve is an avid traveler and next on her list of destinations are Africa, South America, and Antarctica.
If she wins some money on the show she hopes to continue her travels.